SheCup is another new brand of menstrual cup. I am currently expecting a sample for website purposes, so I will update with a full review and additional photographs, when it arrives. For now, I will offer all the information I have gathered from the company's websites, and in an email from the Shecup Team.
SheCup is made out of medical silicone, and sold out of India. The company also offers sterilizing soap strips for cleaning the cup. They also offer a storage pouch for the cup made of pure un-dyed Khadi, "keeping the product eco-friendly and also supporting the social cause of cottage industries".
Right now, the cup only comes in one size, and in a light pink color. The (approximate) capacity to the air holes is 16 ml. Up to the rim its 28 ml. I asked the company if I could use one of their photos, and they graciously said yes.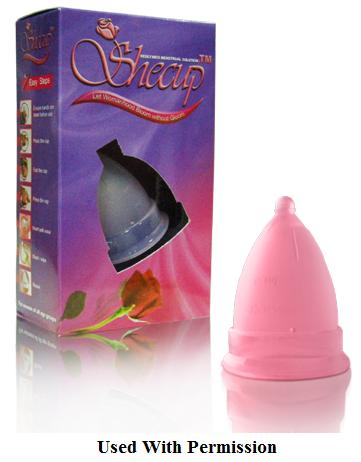 Shecup is packaged in a lovely purple and pink box, with pink cursive writing.
As far as I can tell from the website's photos, the holes are under the second rim. It looks like there are vertical lines going up the base, and the cup has a knob stem. I think I can also see what might be measuring line numbers reflecting through the other side of the silicone in the photo.
For more information, here is the company's website:
http://shecup.com/home.html
And a thread in the LiveJournal forum discussing this product:
http://community.livejournal.com/menstrual_cups/2092791.html
Admin




Posts

: 110


Join date

: 2009-11-13


Location

: Bay Area, Clifornia, USA



Hello!
I have a Shecup

And would like to share my experience with this cup

Actually it was my first cup that I have purchased after a little bit of research on cups in a Life journal forum.
The decision I've made was based on 1) uncertainty about which size is better (I have moderate-heavy flow, yet I have never had kids and hardly, yet sexually active), 2) It seemed to be rather attractive and nicely described by Melissa, and 3) It was available on Ebay and prices didn't bite

My first time experience: Insertion was smooth and easy! (It was overcoming that noisy little "first time user voice" inside my head screaming "how can this thing fit into me??!") Cup was soft but did open with a tiny bit of help (finger running around). I couldn't feel it inside at all!
Nevertheless, when the periods have started and I tried it out in the "real" conditions -it leaked. Firstly, it was my fault - I didn't know where was my cervix, so I didn't know how to situate cup correctly. When I sorted things out - use became way better, it hardly ever had leaks during the day time, assuming I emptied it about once in 3 hours (on a heavy days and about 5 hours on lighter ones). Full cup was - about 2/3 full, as I understood later - because of my cervix taking some space in it.
Then I tried and tried and yet, tried again during the night time. And, unfortunately it leaked third of the times. Different folds, different positions, I think I tried every advise out there and came to pretty certain conclusion that it is overflowing. Shecup has rather small capacity, especially that the suction wholes are pretty low.
Otherwise, I can say it's a beautiful cup, which I would 100% recommend anyone with a not so heavy flow. It has very good quality! It's very soft that which makes both inserting and taking out very easy. I have never had any problems with cleaning air wholes. I still use this cup when I am waiting for periods to start and on lighter 4th and 5th days.
As a bit of after-history:
Switching to cups was actively encouraged by my Finnish neighbour who is a long time user of Lunette. She has told me that she never got any leakage with it, even when she sleeps with it. This encouraged me first to try Shecup, then when I realised I need higher capacity to try Lunette Selene. Unfortunately for me this cup turned out not as successful. It was a bit too stiff (it was a little bit painful to remove it), and it has leaked, just as people described with an awful bubbly sound and feeling. But as many others I have decided on my quest to ideal cup

So..... I have sent it to my mother, to encourage her to try out new way of protection (I honestly hope that it may work better for her), and ordered large Yuuki from Ebay.
Hopefully it shouldn't take long to ship it from Czech Republic to UK, and I will be able to give some feedback on that one.
Firstly, welcome

How long do you usually wear your cup? I know a lot of the companies say "maximum 12 hour protection", but that's the "maximum", which is code for "it could be less too". I have found that people with a heavier flow cannot go the maximum, and usually have to empty their cup about every 4 to 6 hours, depending on exactly how heavy it is.
Also, have you tried inserting with the folded crease facing down? A lot of people find that helps it pop open better, and creates a better seal. Also allowing it to pop open early, like say halfway in, and coaxing it up. That sort of helps to keep your cervix from peeking out the side. And even though most people know this now, I still always throw it out there, in case another person is reading this who never knew before-- always insert aiming back toward your tail bone, never aim straight up, because the vagina naturally slants back

Although having researched a lot, you may have already come across a lot of those tips. Hope the Yuuki is better for you, it is softer than large Lunette. Let us know how it goes

Melissa



Posts

: 803


Join date

: 2009-11-13


Location

: San Fancisco Bay Area, California, USA



Hello again ))
Well with Shecup I can not wear it longer than 3-4 hours on heavy days, which excludes me from sleeping with it.
Since I use it now only on lighter days - I can keep it in for up to 6 hours.
With Lunette I have had almost the same. Though, during the day time I could leave it a bit longer - somewhat around 4-6 hours even on heavy days. Yet, at night it still leaked (I don't have habit of waking up at night,

so rarely woke up to empty it).
I have, indeed researcher on all folds that you and other ladies advice to try. I manage to place my cup (O) in around cervix position. So I guess it shouldn't be misplacement problem

But I have tried to reach and feel it on different days of my cycle. And it seems that it becomes larger and longer on my periods day. I guess it goes not less than 1,5 cm into my cup (sorry, don't know US metric system... and can't give more certain measurements

) In my case it feels like a tip of a long nose

and apparently takes away my precious capacity.

I also wanted to say Thank you! You are doing magnificent job! I have directed many girls on your information forums and got so much information out of it myself!



Posts

: 9


Join date

: 2011-03-19



Ah yes, I have the same issues. With some people the cervix moves down extremely low on the heaviest days. I'm not sure why, but I have a theory that maybe its to help things flow out faster? Hmmm....
Back when I first started using a cup, my flow was A LOT heavier. I remember I used to fill up a DivaCup like every 4 hours, lol. But now, 2 years later, I can wear a small Lunette for 6 to 8 hours even on a heavy day.
Maybe every 4 months, I will have a cycle that is a little more heavy and crampy than usual, because you know how sometimes we have cycles within cycles, lol. But the majority of them now are lighter and mostly cramp-free.
Hope Yuuki is your "Goldilocks" cup




Posts

: 803


Join date

: 2009-11-13


Location

: San Fancisco Bay Area, California, USA



We are very happy with this product and we are receiving amazing response from customers for this product.

If you wish to buy shecup in India, check out - Shycart.com



Posts

: 1


Join date

: 2013-07-08




---
Permissions in this forum:
You
cannot
reply to topics in this forum