Sorry if this is in the wrong place, please feel free to move me :-)

I am a new member of the forum but have been popping in for quite some time. I spent a lot of time researching for my menstrual cup and found the reviews and comparisons massively helpful!

Some background - I am 35 and have had 2 vaginal births. I think I have a very low cervix as I can easily reach it during the beginning of my period, although it seems to pull back in the later days (assuming that is pretty normal). I also have had endometriosis for about the past 10 years and have a fairly heavy flow.

After researching, I purchased a lunette selene size 2 about 6-9 months ago. I had to have it imported from New Zealand as the selene is not currently available in Australia. I absolutely love it, the pain is so much more bare-able - much less dragging. I also find that my period is much shorter, maybe only 4 days instead of 6 or 7, I think this might be due to the suction. I can hardly feel the cup at all either, whereas I can always feel tampons. On the downside though I found that the cup would leak a lot, particularly at the start of my period - I think that my cervix is either sitting on the edge or filling up the cup as it would not be very full. I leak a lot with tampons too but found this worse, particularly when getting up from lying down. I cannot go without pantyliners -which I don't really want to have to do.

Now for the help - last month my daughter went on camp and left my bathroom cabinet open, I found my dog demolishing my cup half an hour later - and you thought she was cute hey ;-) So I am wondering before I buy a replacement one if anyone has any suggestions for a cup that would work better for me - I was very happy with the switch over to the cup and never want to use tampons again, but it would be lovely to sort out the leaks!

Thanks, Nikki
Last edited by stressbunny on Mon Apr 19, 2010 9:14 pm; edited 1 time in total
Melissa is the master at directing for cups. I would watch her Youtube videos and get her opinion. She has tried out just about every cup there is. I have a Lunette(clear). I thought you where very lucking having a selene. Because of your problem you may be stuck with the leaking a bit but you might try washable cloth pads. I discovered the cup and the pads at the same time. It was a Diva cup I found and it wasn't the right fit, so I was just using the cloth washables from Gladrags. I love my cloth pads, and hated the store bought ones. I love my new cup. I think that maybe it just takes so trial and error. When I used tampons it took me a while to find the brand that worked for me. The leaking could be from how you are placing it or it's shape with you. Melissa should be very helpful in getting you down the right way. Good Luck.



Posts

: 23


Join date

: 2010-04-10



Hey Nikki,
So you say low cervix, endo, vaginal births, and heavy flow? And leaking soon after inserting, with a large lunette Selene... hmmmm...
Did it feel like the cup was too big for you? Even some moms aren't comfortable with a large. Sometimes the issue is your cervix taking up cup capacity, but Lunette had rpetty good capacity, so I don't know about that...
If the size wasn't a problem, it may have been an angle / placement issue. Did you make sure to insert back, toward the rectum? We should never insert anything up, because the vagina goes back, almost parallel to the floor.
Another 2 more possibilities could be the stiff material doesn't agree with your body. Or perhaps the rim was not defined enough-- some women do better with a cup that has a more flared rim.
Softer cups with good capacity are SheCup, Miacup.
But if its the rim being too subtle, more flared rims would be Mooncup UK, Keeper, Keeper Moon Cup, Femecup, Fleurcup. Meluna too, particularly the medium, but that might be too wmall if your flow is heavy...
Let me know what you think of these possibilities

Last edited by Melissa569 on Sun Apr 18, 2010 1:01 am; edited 2 times in total



Posts

: 803


Join date

: 2009-11-13


Location

: San Fancisco Bay Area, California, USA



Hi both, thanks so much for the quick replies.

I am not totally sure what was going wrong - I felt like I had the insertion right, spent a lot of time following tips - I definitely found it worked better for me if I inserted it in kind of horizontally and then angled down a bit kind of towards my tail bone - I read on here about kind of making sure the cervix is kind of placed in the cup and tried to give that a go but it always feels like it is too low, like it is sitting against/behind the lower rim- - if that makes sense :-o I generally leak on my early days when my cervix feels much more forward and it can be at any point - but I don't think it is a capacity thing, more a dodgy seal - I do do the twisting thing too.

I had wondered about the stiffness too as it sometimes does feels like it doesn't quite mold properly and can feel flat on one side, and yes it is possible it could be too large - I do pilates regularly too which I read somewhere could make a difference.

I saw sellers on ebay selling lunettes in double sized packs yesterday maybe I should try both sizes - it is just so expensive to get wrong - I saw the selenes too at my original store in NZ but they were more expensive, but I did like the blue :-)

Thanks so much for all the advise - I guess I have more research to do - darn that dog!

Nikki
Something else I like to do is, once I have it inserted all the way, some times I will tilt it forward, backward, left, right. That can kind of help to snuggle it into place, particularly in regards to your cervix...
Flat on one side? Unless that is something to do with your unique shape, that could either be a trait of it being to big (think if you were to put yoru fingers around a cup and squeeze a bit, one edge woudl eventually cave-- the same happens when you are too small for a cup), or is just isn;t popping open all the way once its inside.
If its possible, see if you can keep track of abotu where a suction release hole is after insertion, then try reaching up with one finger near the hole, and see if that lets a bit mroe air intot he cup, and if it pops open the rest fo the way. That's how I do it, especially with a softer cup, because those take more coaxing to pop open. But its still possible even with a firmer cup, I suppose.
If you'd like to try something else, but don't want to lose too much money... Does meluna ship to NZ? Or Teresa from Femininewear.co.uk? She sells lots of brands. I was thinking a large Meluna would have a decent rim, good capacity, but be softer, and it wouldn't cost you too much to try... They are cheaper than a lot of other brands, I know its hard to try tohers with the cost...
I have a file on my computer with all brands being compared to all others, so I can refer to it whenever needed. So let me see if I can dig up the "Large Lunette vs. Large Meluna" so you can take a look...
Ah, ok, here it is, large and small lunette next to a large meluna: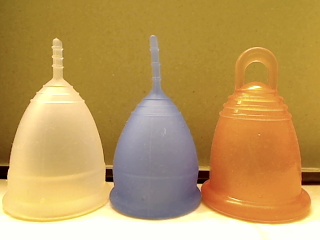 See what I mean about Meluna's rim? And it is softer. Of course, that's just the ring stem. You can get a ball stem, or no stem at all (its got good grips so you should still be able to grab it if your are "short").
Any others you need to see?



Posts

: 803


Join date

: 2009-11-13


Location

: San Fancisco Bay Area, California, USA



what about a LadyCup? i have a large Diva, Lunette and LadyCup and the Lady is squishier...a lot more so than the Lunette. It's my favorite of the three...however it doesn't hold quite as much as the Diva or Lunette. And they're pretty cheap on ebay.



Posts

: 17


Join date

: 2009-11-18



Melissa thanks so much - I can not try some of the things you suggested as my dog ate the thing - :-o but I will definitely try them when my new one arrives.

I read through all your thoughts and reviews and also watched most of your videos. I decided in the end to have a go with the fleurcup - as from your description it seemed fairly similar to the lunette (and in the main I was happy with the lunette) with a more pronounced rim - also I liked the colours - sucker hey!

Worked out ok money wise too as it was only about $30 as opposed to the $70 I paid for the lunette! I had a look at the MeLuna too - they are good on price, but I wasn't so sure about the material.

Anyway I will let you know how I go when my fleurcup arrives :-)

Thanks again for your help :-)

Nikki
Thanks HBS - I might try a ladycup next if this cup doesn't work out - I guess it is just a bit of trial and error until you find what works for you individually hey! and it is hard to know what exactly is causing the problem.

Nikki :-)

---
Permissions in this forum:
You
cannot
reply to topics in this forum