Hi, Melissa:
I have used a Mooncup (UK) for years, and before that a Keeper, but I have always had trouble with pressure against my urethra. I don't get irritation, but peeing with the cup in place is nearly impossible. I have to push the cup back with my finger in order to empty my bladder, which interferes with the seal.

I have to replace the Mooncup anyway because I lost it (along with the rest of my handbag) and I would appreciate a brand recommendation. I have a very short distance between vaginal opening and cervix. Also, due to peri-menopause, I'm having heavy flow, so bigger capacity would be good. I've never been pregnant, and I suspect a smaller size cup would fit, although I bought the larger size Mooncup due to my age.

I'm guessing that a softer cup might make peeing easier? Please let me know which brand and size you think might be the best.

Thank you so much for doing this! When I was a teenager at a co-ed boarding school in New England in the 70's, we girls were so inhibited that we would go to the drugstore in groups, posting sentries who could warn the designated tampon/pad buyers in case a BOY might enter the store and see us making such an embarrassing purchase. I'm awfully glad to see that era is gone.



Posts

: 2


Join date

: 2010-05-30



First off, welcome to the forum

So a heavy flow, short vaginal canal, sensitivity to flared rims, and need something softer?
Hmmm.... Heavy flow means you need good capacity. So it should be something not too long, but is soft, and holds a decent amount. Here are the cups that hold a lot, but don't have intense rims and are noted for their softness:
Miacup
Large Yuuki
(the small is a little stiffer)
Large ladycup is also pretty soft, but because its suction release holes are so low, it doesn't really hold a lot. Close tot he amount of a small Moon Cup, I think, which really is not too much smaller than the large, according to the comparison photos I have seen. They are so close, its difficult to tell them apart.
I can show you Small Miacup and Large Ladycup in comparison to a small UK Mooncup: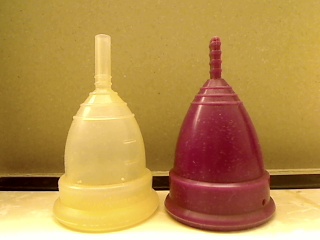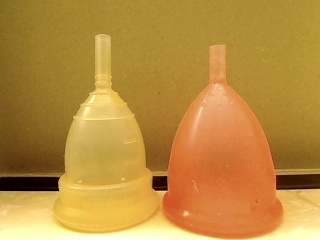 And if you scroll down a bit on this page, you will find a large Yuuki, next to a large Ladycup, posted by a memebr of this forum. Paired with the other comparison photos, that should give you an idea of size:
http://menstrualcups.friendhood.net/yuuki-f32/how-soft-is-the-large-yuuki-t59.htm
Based on the details you have given me, I would say Miacup (large or small is up to you, they both hold more than UK Moon Cup to the holes) or large Yuuki could probably serve your needs best. They are not too long, meaning they are both shorter than Diva. The rims are more sublte, and they don't put tons of pressure on the bladder. I speak from personal experience, it is much easier to urinate with the softer cups. If you are willing to change a cup about as often as you do your Mooncup, then you could possibly go for the large Ladycup too. The main appeal of ladycup, is that it might be cheaper, they have good deals on eBay and such.
Hope this helps




Posts

: 803


Join date

: 2009-11-13


Location

: San Fancisco Bay Area, California, USA



Thanks so much. These aren't the easiest to obtain, are they? Seems like no one is carrying the Shecup and the Indian site can't take payments at present. The Mia is also unavailable at the sites I checked.

So, Melissa, I think you need to start a mail-order business!



Posts

: 2


Join date

: 2010-05-30



Hahaha, I've considered being a distributer for some brands, but... Sometimes I wonder if people would question my recomendations, if I were selling them. For now, I can only point you in the right direction

Most (if not all) of these cups are sold by Teresa from femininewear, at:
http://www.femininewear.co.uk/menstrual-cups-c-15.html?osCsid=67n7huclp8odsb8dkmen9d2j27
As for Miacup, Teresa is expecting another shipment between the 11th and 28th of June.
As for other sources-- here is a search revealing
Shecup
for sale on ebay. They actually have the "buy it now" listings, so you don't have to bid:
http://shop.ebay.com/?_from=R40&_trksid=p3907.m570.l1313&_nkw=shecup&_sacat=See-All-Categories
Here is one for
Yuuki
on ebay (I think you can also still get it from their site?):
http://shop.ebay.com/i.html?_nkw=yuuki+cup&_sacat=0&_odkw=shecup&_osacat=0&bkBtn=&_trksid=p3286.m270.l1313
And the
Ladycup
store on ebay, all kinds of ladycup products there:
http://stores.ebay.com/LadyCup-menstrual-cups



Posts

: 803


Join date

: 2009-11-13


Location

: San Fancisco Bay Area, California, USA



I have a whole heap of women waiting anxiously for Miacups and they are sat in an email folder. As soon as they arrive I will email them so if you would like to be informed please send me a message
http://www.femininewear.co.uk/enter.php
and I will let you know




Posts

: 113


Join date

: 2009-11-14


Location

: Hampshire, UK




---
Permissions in this forum:
You
cannot
reply to topics in this forum